Feline Infectious Peritonitis Therapeutics/Clinical Trials Team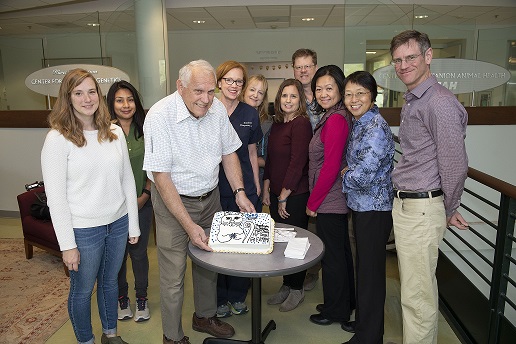 Treatment with oral formulations GS-441524
Unlicensed GS-441524-Like Antiviral Therapy Can Be Effective for at-Home Treatment of Feline Infectious Peritonitis
Feline Infectious Peritonitis (FIP). What Happened, Why It Happened. What Will Happen to My Cat and What Are My Options?
Treatment of FIP with Remdesivir
Summary of GS-441524 treatment for FIP
Inappropriate use of GS-441524 in an attempt to eliminate FECV from healthy cats
Effects of surgical versus hormonal neutering and routine vaccination on GS-441524 treatment for FIP
Personal statement on GS-441524
Black-market production and sale of GS-441524 and GC376
Efficacy and safety of the nucleoside analog GS-441524 for treatment of cats with naturally occurring feline infectious peritonitis
FIP Therapeutics/Clinical Trials Team is responsible for conducting in-house trials of therapies for naturally occuring FIP.
Our field trials are completed, and we are no longer accepting cats for treatment.  We also cannot send drugs free or for a charge as that would not be ethical.  There are now two drugs that have been researched, both showing great promise.  They are now in various stages of being commercialized, which is a complex process that involves identifying potential companies interested in taking a drug through FDA approval and licensing.  This is not a simple task and could take one to two years before one or more drug is approved and made available for use by licensed veterinarians.  We have described our experiences with GC376, a viral protease inhibitor, in an article in the Journal of Feline Medicine and Surgery. Similar reports will be forthcoming as other drugs go through experimental and field testing.  We wish that there were currently available treatments for FIP, but none have proven curative and therapy remains basically symptomatic and targeted at extending a reasonable quality of life and not to cure the infection. We are convinced based on our research that anti-viral drugs of the type currently used for HIV/AIDS and hepatitis C virus (HCV) infection will provide the best chance for curing this terrible disease of cats.  These drugs include protease inhibitors, nucleoside reverse transcriptase inhibitors, and non-nucleoside reverse transcriptase inhibitors, as well as other classes of anti-viral drugs that target specific aspects of RNA virus replication.