Faculty Research and Program Support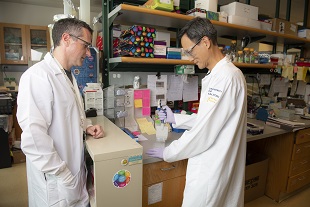 The CCAH provides grant funding on a competitive basis to faculty for studies dedicated to advancing the health of dogs, cats and exotic pets. For over 25 years the CCAH has been supporting these efforts, and has awarded more than $20 million. In 2020-21, the CCAH funded 35 faculty grants totaling $828,356, and 11 matching grants in the amount of $85,500.
By supporting our faculty research, we directly impact companion animals and their families by doing the work needed to better understand, prevent and treat disease. Here are a few examples of how the CCAH uses your donations to fund groundbreaking research.
FACULTY GRANTS FUNDED
Some of the new CCAH awarded faculty grants for 2020-2021 include:
Developing anticoronalviral therapies for cats with FIP (Murphy)
Effect of age, sex, and weight on antioxidant and vitamin status in cats (Giulivi)
Exploring the therapeutic potential of a Rbm38 Peptide for the treatment of canine lymphoma (Zhang)
SARS-CoV-2 intestinal infection in feline and canine intestinal organoid (Kol)
Fatty acid analysis and stability of selected vegetable and fish oils in pet food (Larsen)
Treatment for chemotherapy-induced diarrhea in dogs (Willcox)
Pilot safety study on the use of therapeutic drug for dogs with epilepsy (Lein)
Endoscopy versus surgically acquired biopsies of the intestine (Marsilio)
Stem-cell therapy for the treatment of persistent bacterial bone infections (Filliquist)
Collagen crosslinking with riboflavin for treatment of canine infectuous keratitis (Da Costa Martins)
Evaluation of Leptospira exposure and infection in a feral cat population (Sykes)
Efficacy of multiple dose acyclovir against Cyprinid Herpesvirus 3 infection in koi. (Soto Martinez)
Comprehensive profiling of antirvial immune responses in dogs (Keller)
Mediated microglial immunosuppression in brain tumors (Toedebusch, C.)
Feline burn wounds: digital measurement, diagnostic imaging, bacterial assessment, and proteomics (Peyton)
Endoscopic identification of gastrointestinal lesions in dogs with shunts (Culp)
Efficacy and safety of the nucleoside analog GS-441524 for treatment of cats with naturally occurring feline infectious peritonitis

Pedersen NC, Perron M, Bannasch M, Montgomery E, Murakami E, Liepnieks M, Liu H



The aim of this study was to determine the safety and efficacy of the drug GS-441524 to treat cats suffering from various forms of naturally acquired feline infectious peritonitis (FIP). 31 cats were enrolled in the study. Cats ranged from 3.4-73 months of age. 26 had effusive or dry-to-effusive FIP and 5 had non-effusive disease. Cats with severe neurological and ocular FIP were not recruited. The group was started on GS-441524 at a dosage of 2.0 mg/kg SC q24h for at least 12 weeks and increased when indicated to 4.0 mg/kg SC q24h. Four of the 31 cats that presented with severe disease died or were euthanized within 2-5 days and a fifth cat after 26 days. The 26 remaining cats completed the planned 12 weeks or more of treatment. Eighteen of these 26 cats remain healthy at the time of publication after one round of treatment, while eight others suffered disease relapses within 3-84 days. Three of the eight relapsing cats were treated again at the same dosage, while five cats had the dosage increased from 2.0 to 4.0 mg/kg q24h. The five cats treated a second time at the higher dosage, including one with neurological disease, responded well and also remain healthy at the time of publication. However, one of the three cats re-treated at the original lower dosage relapsed with neurological disease and was euthanized, while the two remaining cats responded favorably but relapsed a second time. These two cats were successfully treated a third time at the higher dosage, producing 25 long-time survivors. One of the 25 successfully treated cats was subsequently euthanized due to presumably unrelated heart disease, while 24 remain healthy. GS-441524 was shown to be a safe and effective treatment for FIP. The optimum dosage for this drug was found to be 4.0 mg/kg SC q24h for at least 12 weeks.

Prophylactic and

therapeutic effects

of

twice-daily

famciclovir

administration

on

infectious

upper

respiratory disease

in

shelter-housed

cats

Cooper AE, Thomasy SM, Drazenovich TL, Kass PH, Potnis SS, Leutenegger CM, Maggs DJ





In humans with herpetic disease, early or pre-emptive famciclovir therapy, which is an antiviral drug,  reduces disease duration and severity. This prospective, masked, placebo-controlled study tested therapeutic and prophylactic effects of two famciclovir doses given to cats for 7 days following shelter entry. Cats were assigned to prophylactic or therapeutic study arms based on clinical evidence of herpetic disease at study entry. Cats in the therapeutic arm received no treatment (n = 19), placebo (lactose; n = 18) or famciclovir at ~30 (n = 21) or ~90 mg/kg (n = 20) by mouth twice daily for 7 days. Cats in the prophylactic arm received no treatment (n = 25) or famciclovir at ~30 (n = 28) or ~90 mg/kg (n = 27) by mouth twice daily for 7 days. Disease scores, body weight, conjunctival feline herpesvirus 1 (FHV-1) shedding, and adoption rates were recorded on days 1 (admission), 8 (end of therapy) and 15 (1 week after cessation of therapy). No significant differences in clinical scores were observed among groups in the prophylactic or therapeutic arms at any of the three time points. However, within the therapeutic arm, viral shedding on day 8 was significantly higher in cats receiving no treatment compared to  those receiving ~30 or ~90 mg/kg famciclovir, and this effect persisted 1 week after famciclovir was stopped (day 15) only in cats receiving ~30 mg/kg, although this approached significance in cats receiving ~90 mg/kg. No significant differences in adoption rates were detected among groups in either arm throughout the study. Although we did not demonstrate a statistically or clinically significant effect of famciclovir administration upon clinical signs of infectious upper respiratory disease or adoption, when it was administered at ~30 or ~90 mg/kg twice daily for 1 week famciclovir reduced conjunctival FHV-1 shedding. This suggests a potential role in interrupting the infectious cycle within a shelter population; however, cost in time and resources, and stress and pathogen transmission induced by oral administration should be considered.

Determination of

mammalian

DNA

in

commercial

canine

diets

with

uncommon

and

limited

ingredients

Fossati LA, Larsen JA, Villaverde C, Fascetti AJ



Over-the-counter (OTC) commercially available, limited ingredient diets for dogs could be reliable alternatives to veterinary therapeutic diet formulations for the diagnosis and management of adverse food reaction (AFR). However, the possibility of undeclared ingredients jeopardizes the efficacious use of OTC options for medical purposes. The objective was to determine the presence of undeclared ingredients in OTC canine dry diets marketed as limited or single protein source diets. Twenty-one OTC adult canine diets marketed as limited or single protein source diets were purchased. Multiplex PCR was used to screen for DNA of 10 mammalian species. The presence of DNA from one or more species not declared on the label was identified in all 21 diets tested and included cow (Bos taurus), pig (Sus scrofa), sheep (Ovis sp.), goat (Capra hircus) and bison (Bison bison). Twenty diets were positive for the declared protein source and one diet was negative for the declared species. Cat (Felis catus), dog (Canis sp.), horse (Equus sp.), mouse (Mus musculus) and rat (Rattus norvegicus) DNA was not identified in any samples. The presence of undeclared mammal species in OTC canine dry diets marketed as having limited or single protein source ingredients may complicate AFR diagnosis and treatment. However, PCR can detect a miniscule amount of DNA which might not be clinically significant, because the amount needed to elicit a response is unknown. Quantification of the contamination was not determined in this study, precluding discrimination of intentional adulteration from unavoidable cross-contamination.
2020-2021 CCAH published donor funded studies:
Canine
Cancer
Glioma-associated microglia/macrophages augment tumorigenicity in canine astrocytoma, a naturally occurring model of human glioma
Neuro-Oncology Advances (May 2021)
Toedebusch R, Grodzki AC, Dickinson PJ, Woolard K, Vinson N, Sturges B, Snyder J, Li CF, Nagasaka O, Consales B, Vernau K, Knipe M, Murthy V, Lein PJ, Toedebusch CM
Development of canine PD-1/PD-L1 specific monoclonal antibodies and amplification of canine T cell function
PLOS ONE (July 2020)
Choi JW, Withers SS, Chang H, Spanier JA, De La Trinidad VL, Panesar H, Fife BT, Sciammas R, Sparger EE, Moore PF, Kent MS, Rebhun RB, McSorley SJ
Evaluation of accuracy for 18F-FDG positron emission tomography and computed tomography for detection of lymph node metastasis in canine oral malignant melanoma
Veterinary and Comparative Oncology (August 2020)
Willcox JL, Spriet M, Zwingenberger AL, Phillips KL, Burton JH, Skorupski KA, Hansen KS, Affolter VK, Woolard KD, Beylin D, Giuffrida MA
Cardiology
Reproducibility of echocardiographic indices of left atrial size in dogs with subclinical myxomatous mitral valve disease
Journal of Veterinary Internal Medicine (June 2020)
Hsue W, Visser LC
Diabetes
Loss of sympathetic innervation to islets of Langerhans in canine diabetes and pancreatitis is not associated with insulitis
Nature Research (November 2020)
Gilor C, Pires J, Greathouse R, Horn R, Huising MO, Marks SL, Murphy B, Kol A
Nutrition
Impact of storage temperature, storage duration, and deproteinization on plasma amino acid concentrations in dogs
Research in Veterinary Science (March 2021)
Chiang C, Larsen JA, Sahtout M, Horoschak RE, Yu Z, Fascetti AJ
Surgery
A randomized controlled trial of three-dimensional versus two-dimensional imaging system on duration of surgery and mental workload for laparoscopic gastropexies in dogs
Veterinary Surgery (July 2021)
Balsa IM, Giuffrida MA, Mayhew PD
Assisting Decision-Making on Age of Neutering for Mixed Breed Dogs of Five Weight Categories: Associated Joint Disorders and Cancers
Frontiers in Veterinary Science (July 2020)
Hart BL, Hart LA, Thigpen AP, Willits NH.
Assisting Decision-Making on Age of Neutering for 35 Breeds of Dogs: Associated Joint Disorders, Cancers, and Urinary Incontinence
Frontiers in Veterinary Science (July 2020)
Hart BL, Hart LA, Thigpen AP, Willits NH
Influence of interlocking thread screws to repair simulated adult canine humeral condylar fractures
Veterinary Surgery (August 2021)
Raleigh JS, Filliquist B, Kapatkin AS, Chou PY, Marcellin-Little DJ, Garcia TC, Jacques KL, Stover SM
Percutaneous radiologically guided gastrostomy tubes: Procedural description and biomechanical comparison in a canine model
Veterinary Surgery (October 2020)
Griffin MA, Culp WTN, Garcia TC, Glaiberman CB, Giuffrida MA, Balsa IM, Mayhew PD, Johnson EG, Marks SL
Genetics
Chromatin accessibility in canine stromal cells and its implications for canine somatic cell reprogramming
Stem Cells Translational Medicine (November 2020)
Questa M, Moshref M, Jimenez RJ, Lopez-Cervantes V, Crawford CK, Settles ML, Ross PJ, Kol A
Multiple FGF4 Retrocopies Recently Derived within Canids
Genes 2020 (July 2020)
Batcher K, Dickinson P, Maciejczyk K, Brzeski K, Rasouliha SH, Letko A, Drögemüller C, Leeb T, Bannasch D
A Missense Variant in ALDH5A1 Associated with Canine Succinic Semialdehyde Dehydrogenase Deficiency (SSADHD) in the Saluki Dog
Genes 2020 (September 2020)
Vernau KM, Struys E, Letko A, Woolard KD, Aguilar M, Brown EA, Cissell DD, Dickinson PJ, Shelton GD, Broome MR, Gibson KM, Pearl PL, König F, Van Winkle TJ, O'Brien D, Roos B, Matiasek K, Jagannathan V, Drögemüller C, Mansour TA, Brown CT, Bannasch DL
Quality of DNA extracted from formalinfixed, paraffin-embedded canine tissues
Journal of Veterinary Diagnostic Investigation (July 2020)
Dear JD, Sykes JE, Bannasch DL
Liver Disease
Ferumoxytol-enhanced magnetic resonance angiography provides comparable vascular conspicuity to CT angiography in dogs with intrahepatic portosystemic shunts
Veterinary Radiology and Ultrasound  (July 2021) 
Wilson S, Culp WTN, Wisner ER, Cissell DD, Finn JP, Zwingenberger AL
Surgery - Orthopedics
Comparison of needle arthroscopy, traditional arthroscopy, and computed tomography for the evaluation of medial coronoid disease in the canine elbow
Veterinary Surgery (July 2021)
Hersh-Boyle RA, Chou PY, Kapatkin AS, Spriet M, Filliquist B, Garcia TC, Marcellin-Little DJ
Blood Clotting
Lipopolysaccharide-Activated Canine Platelets Upregulate High Mobility Group Box-1 via Toll-Like Receptor 4
Frontiers in Veterinary Science (June 2021)
Li RHL, Hommel C, Nguyen N.
Analgesia/Pain Control
Pharmacokinetics of a high-concentration formulation of buprenorphine (Simbadol) in male dogs
Veterinary Anaesthesia and Analgesia (July 2021)
Hansford J, Henao-Guerrero N, Machado ML, Pypendop BH
Comparison of the efficacy and duration of desensitization of oral structures following injection of a lidocaine-bupivacaine mixture via lateral percutaneous and modified infraorbital approaches in dogs
American Journal of Veterinary Research (January 2021)
Chohan AS, Pascoe PJ
Internal Medicine
Efficacy of a micronized, nanocrystal fenofibrate formulation in treatment of hyperlipidemia in dogs
Journal of Veterinary Internal Medicine (July 2021)
Munro MJL, Hulsebosch SE, Marks SL, Gilor C
Feline
Phenylpiperidine opioid effects on isoflurane minimum alveolar concentration in cats
Journal of Veterinary Pharmacology and Therapeutics (November 2020)
Brosnan RJ, Pypendop BH, Stanley SD
Reference intervals for radiographic, echocardiographic and N-terminal pro B-type natriuretic peptide values in healthy kittens
Journal of Feline Medicine and Surgery (April 2021)
Gunther-Harrington CT, Sharpe AN, Vernau KM, Ueda Y, Montgomery EA, Surmick JD, Fernandez N, Ontiveros E, Walker AL, Stern JA
Stem cell therapy prior to full-mouth tooth extraction lacks substantial clinical efficacy in cats affected by chronic gingivostomatitis
Journal of Feline Medicine and Surgery (September 2020)
Arzi B, Taechangam N, Lommer MJ, Walker NJ, Loscar MR, Borjesson DL
Stem cell therapy prior to full-mouth tooth extraction lacks substantial clinical efficacy in cats affected by chronic gingivostomatitis
Journal of Feline Medicine and Surgery (September 2020)
Arzi B, Taechangam N, Lommer MJ, Walker NJ, Loscar MR, Borjesson DL
Rabbit Carcasses for Use in Feline Diets: Amino Acid Concentrations in Fresh and Frozen Carcasses With and Without Gastrointestinal Tracts
Frontiers in Veterinary Science (January 2021)
Owens TJ, Fascetti AJ, Calvert CC, Larsen JA
Avian & Exotic Animals
Varying Expression of Mu and Kappa Opioid Receptors in Cockatiels (Nymphicus hollandicus) and Domestic Pigeons (Columba livia domestica)
Frontiers in Genetics (October 2020)
Fousse SL, Golsen BM, Sanchez-Migallon Guzman D, Paul-Murphy JR, Stern JA
Pharmacokinetics of hydromorphone hydrochloride after intramuscular and intravenous administration of a single dose to orange-winged Amazon parrots (Amazona amazonica)
American Journal of Veterinary Medicine (November 2020)
Sanchez-Migallon Guzman D, Knych, H, Douglas, J, Paul-Murphy, JR
Pharmacokinetics of amantadine after oral administration of single and multiple doses to orange-winged Amazon parrots ( Amazona amazonica)
American Journal of Veterinary Medicine (August 2020)
Berg KJ, Sanchez-Migallon Guzman D, Knych HK, Drazenovich TL, Paul-Murphy JR
Pharmacokinetic and Efficacy Study of Acyclovir Against Cyprinid Herpesvirus 3 in Cyprinus carpio
Frontiers in Veterinary Science (October 2020)
Quijano Cardé EM, Yazdi Z, Yun S, Hu R, Knych H, Imai DM, Soto E
Evaluation of the thermal antinociceptive effects of hydromorphone hydrochloride after intramuscular administration to orange-winged Amazon parrots (Amazona amazonica)
American Journal of Veterinary Medicine (October 2020)
Sanchez-Migallon Guzman D, Douglas JM, Beaufrère H, Paul-Murphy JR
Prior Publications
2019-2020 CCAH published donor-funded studies:

Canine

Cancer
Use of transrectal ultrasonography for assessment of the size and location of prostatic carcinoma in dogs
American Journal of Veterinary Research (November 2019)
Culp, WTN, Johnson, E, Giufridda, MA, Palm, CA, Mayhew, P, Kent, MS, Rebhun, RB, Burton, JH

The interaction between RUNX2 and core binding factor beta as a potential therapeutic target in canine osteosarcoma
Veterinary and Comparative Oncology (March 2020)
Alegre, F, Ormonde, AR, Godinez, DR, Illendula, A, Bushweller, JH, Wittenburg, LA

Intramuscular diphenhydramine does not affect acute doxorubicin infusion-related arrhythmia number or severity in a prospective crossover study in canine lymphoma: A Pilot Study
Frontiers in Veterinary Science (July 2020)
Willcox, JL, Belanger, C, Burton, JH, Yu, L, Yu, U, Visser, LC, Skorupski, K, Stern, JA

Clinicopathological characteristics of histiocytic sarcoma affecting the central nervous system in dogs
Journal of Veterinary Internal Medicine (March 2020)
Toyoda, I, Vernau, W, Sturges, BK, Vermau, KM, Rossmeisl, J, Zimmerman, K, Crose, CM, Woolard, K, Gufridda, M, Higgins, RJ, Dickenson, PJ

Hematology
Canine platelets express functional Toll-like receptor-4: lipopolysaccharide-triggered platelet activation is dependent on adenosine diphosphate and thromboxane A2 in dogs
BMC Veterinary Research (July 2019)
Li, RHL, Nguyen, N, Tablin, F

Genetics
Pigment Intensity in Dogs is Associated with a Copy Number Variant Upstream of KITLG
Genes (Basel) (January 2020)
Weich, K, Affolter, V, York, D, Rebhun, R, Kallenberg, A, Bannasch, D

Surgery
Comparison of the efficacy and duration of desensitization of oral structures following injection of various volumes of a lidocaine-bupivacaine mixture via an infraorbital approach in dogs
American Journal of Veterinary Research (July 2020)
Pascoe PJ, Chohan AS.

Utility of bronchoscopy combined with surgery in the treatment and outcomes of dogs with intrathoracic disease secondary to plant awn migration
Veterinary Surgery (July 2019)
Gibson EA, Balsa IM, Mayhew PD, Phillips, K, Giuffrida, MA, Culp, WTN, Steffey, MA, Johnson, LR

Feline

Dentistry
A multicenter experience using adipose-derived mesenchymal stem cell therapy for cats with chronic, non-responsive gingivostomatitis
Stem Cell Research & Therapy (March 2020)
Arzi, B, Peralta, S, Fiani, N, Vapniarsky, N, Taechangam, N, Delatorre, U, Clark, KC, Walker, N, Loscar, M, Lommer, MJ, Fulton, M, Battig, J, Borjesson, D

Assessment of P2Y12 Inhibition by Clopidogrel in Feline Platelets Using Flow Cytometry Quantification of Vasodilator-Stimulated Phosphoprotein Phosphorylation
Frontiers in Veterinary Science (April 2020)
Li RHL, Nguyen N, Rosati T, Jandrey K

Immunology
Topology and expressed repertoire of the Felis catus T cell receptor loci
BMC Genomics (January 2020)
Radtanakatikanon A, Keller SM, Darzentas N, Moore, PF, Folch, G, Ngoune VN, Lefranc, MP, Vernau, W

Infectious Disease
Perspectives: potential therapeutic options for SARS-CoV-2 patients based on feline infectious peritonitis strategies: central nervous system invasion and drug coverage
International Journal of Antimicrobial Agents (June 2020)
Olsen, M, Cook, SE, Huang, V, Perdersen, N, Murphy, BG

Surgery
Cardiopulmonary effects of dexmedetomidine, with and without vatinoxan, in isoflurane-anesthetized cats
Veterinary Anaesthesia and Analgesia (November 2019)
Jaeger AT, Pypendop BH, Ahokoivu H, Honkavaara J

Hematology
Effects of famciclovir in cats with spontaneous acute upper respiratory tract disease
Journal of Feline Medicine and Surgery (June 2020)
Kopecny L, Maggs DJ, Leutenegger CM, Johnson LR
An RNA-directed gene editing strategy for Attenuating the infectious potential of feline immunodeficiency virus-infected cells: a proof of concept
Viruses (May 2020)
Murphy, BG, Wolf, T, Vogel, H, Castillo, D, Woolard, K

Avian, Reptile & Other Companion Animals

Gastrointestinal
Pharmacokinetics of maropitant citrate in New Zealand White rabbits ( Oryctolagus cuniculus)
American Journal of Veterinary Research, (October 2019)
Ozawa, SM, Hawkins, MG, Drazenovich, TL, Kass, PH, Knych, K

Cancer
Evaluation of deslorelin implant on subsequent mammary tumors of rats (Rattus norvegicus)
Journal of Exotic Pet Medicine (October 2019)
Vergneau-Grosset, C, Peña, L, Cluzel, C, Hawkins, MG, Maccolini, E, Sinclair, K, Graham, J, Sadar, MJ, Guzman, DS-M, Lair, S, Langlois, I, Paul-Murphy, J

Infectious Disease
The formation, persistence, and resistance to disinfectant of the Erysipelothrix piscisicarius biofilm
Journal of Aquatic Animal Health (January 2020)
Pomaranski, E, Soto, E

Non-lethal diagnostic methods for koi herpesvirus in koi Cyprinus carpio
Diseases of Aquatic Organisms (March 2020)
Soto, E, Tamez-Trevino, E, Yarzdi, Z, Stevens, BN, Yun, S, Martinez-Lopez, B, Burges, J 

Surgery
Evaluation of a ventral and a left lateral approach to coelioscopy in bearded dragons ( Pogona vitticeps)
American Journal of Veterinary Research, (March 2020)
Frei, S, Guzman, DS-M, Kass, PH, Giuffrida, MA, Mayhew, PD

2018-2019 CCAH published donor-funded studies
Cancer
Investigation of immune cell markers in feline oral squamous cell carcinoma
Veterinary Immunology and Immunopathology (Feb. 2019)
Sparger EE, Murphy BG, Kamal FM, Arzi B, Naydan D, Skouritakis K, Cox DP, Skorupski K.

Association of macrophage and lymphocyte infiltration with outcome in canine osteosarcoma
Veterinary and Comparative Oncology (Mar. 2019)
Withers SS, Skorupski KA, York D, Choi JW, Woolard KD, Laufer-Amorim R, Sparger EE, Rodriguez CO, McSorley SJ, Monjazeb AM, Murphy WJ, Canter
RJ, Rebhun RB

Cardiology
Cardiac effects of a single dose of pimobendan in cats with hypertrophic cardiomyopathy; a randomized, placebo-controlled, crossover study
Frontiers in Veterinary Science (Feb. 2019)
Oldach MS, Ueda Y, Ontiveros ES, Fousse SL, Harris SP, Stern JA

Echocardiographic evaluation of velocity ratio, velocity time integral ratio, and pulmonary valve area in dogs with pulmonary valve stenosis
Journal of Veterinary Internal Medicine (Sep. 2018)
Nishimura S, Visser LC, Bélanger C, Oldach MS, Gunther-Harrington CT, Stern JA

Emergency Medicine
Efficacy of manual ventilation techniques during cardiopulmonary resuscitation in dogs
Frontiers in Veterinary Science (Oct. 2018)
Hopper K, Rezende ML, Borchers A, Epstein SE

Genetics
Genetic heterogeneity and diversity of North American golden retrievers using a low density STR marker pane
PLOS One (Feb.2019)
Ontiveros ES, Hughes S, Penedo MCT, Grahn RA, Stern JA

Genetics-Ophthalmology
Evaluation of the major histocompatibility complex (MHC) class II as a candidate for sudden acquired retinal degeneration syndrome (SARDS) in dachshunds
Veterinary Ophthalmology (Feb. 2019)
Stromberg SJ, Thomasy SM, Marangakis AD, Kim S, Cooper AE, Brown EA, Maggs DJ, Bannasch DL

Hematology
Influence of needle gauge used for venipuncture on measures of hemostasis in cats
Journal of Feline Medicine Surgery (Feb. 2019)
Solbak S, Epstein SE, Hopper K

Immunology
Multi-color flow cytometry for evaluating age-related changes in memory lymphocyte subsets in dogs
Development & Comparative Immunology (Oct. 2018)
Withers SS, Moore PF, Chang H, Choi JW, McSorley SJ, Kent MS, Monjazeb AM, Canter RJ, Murphy WJ, Sparger EE, Rebhun RB

Infectious Disease
Pilot study of the safety and solerability of asubconjunctival penciclovir implant in cats experimentally infected with herpesvirus
Journal of Ocular Pharmacology and Therapeutics (Jan/Feb 2019)
Covert JC, Thomasy SM, Kado-Fong H, Kon LN, Kass PH, Reilly CM, Lappin MR, Margulies BJ, Maggs DJ

Babesia conradae infection in coyote hunting dogs infected with multiple blood-borne pathogens
Journal of Veterinary Internal Medicine (Sep. 2018)
Dear JD, Owens SD, Lindsay LL, Biondo AW, Chomel BB, Marcondes M, Sykes JE

Neurology
Intracranial pressure monitoring in normal dogs usingsubdural and intraparenchymal miniature strain-gauge transducers
Journal of Veterinary Internal Medicine (Mar 2019)
Sturges BK, Dickinson PJ, Tripp LD, Udaltsova I, LeCouteur RA

Pharmacokinetics and safety of zonisamide after oral administration of single and multiple doses to Hispaniolan Amazon parrots
American Journal of Veterinary Research (Feb. 2019)
Keller KA, Guzman DS, Boothe DM, Visser M, de Matos RE, Petritz OA, Kass PH, Paul-Murphy JR

Nutrition
Determination of total mercury and methylmercury concentrations in commercial canine diets
Topics in Companion Animal Medicine (June 2019)
Sires RA, Fascetti AJ, Puschner B, Larsen JA

Pain Management
Evaluation of the thermal antinociceptive effects and pharmacokinetics after intramuscular administration of buprenorphine hydrochloride to cockatiels (Nymphicus hollandicus)
American Journal of Veterinary Research (Dec. 2018)
Guzman DS, Houck EL, Knych HKD, Beaufrère H, Paul-Murphy JR

Surgery
Surgery cardiorespiratory effects of variable pressure thoracic insufflation in cats undergoing video-assisted thoracic surgery
Veterinary Surgery (Jun. 2019)
Mayhew PD, Pascoe PJ, Giuffrida MA, Mitchell J, Steffey MA, Culp WTN

Effects of hole diameter on torsional mechanical properties of the rabbit femur
Veterinary and Comparative Orthopaedics and Traumatology (Jan. 2019)
Massie AM, Kapatkin AS, Garcia TC, Guzman DS, Chou PY, Stover SM