Resident Support
The CCAH is committed to advancing the school's educational missions for our residents, professional DVM students and graduate students. Future advancements in animal health depend upon a qualified cadre of new veterinarians, veterinary specialists and veterinary scientists. By partnering with our donors and affiliate faculty, we're able to support training and research opportunities for these up-and-coming professionals.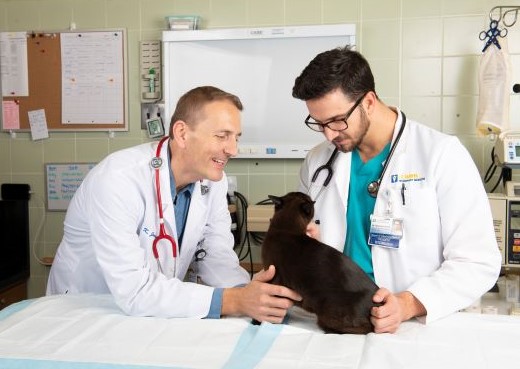 Residents — those who undergo advanced training in a particular area — are the next generation of veterinary specialists who will care for the health of our pets. To be equipped for this important responsibility, residents engage in research to learn how to better identify, diagnose, treat and prevent animal diseases and conditions.
The CCAH supports studies benefiting dogs, cats and small exotic pets through its competitive Residents Grants Program. The CCAH has supported more than 350 resident research projects over the past 25 years, which includes 15 grants in 2020-21 totaling over $72,000. This is supported by gifts from donors, our companion animal memorial fund and a recently established resident grant endowment.
Thanks to our donor funded grants, two cardiology residents recently won Resident Research Awards at the 2019 American College of Veterinary Internal Medicine (ACVIM) annual conference.  These projects were funded through the CCAH resident research grants program.   
Second-year resident Dr. Weihow Hsue's research project—"Reliability of Measuring of Left Atrial Size in Dogs with Subclinical Myxomatous Mitral Valve Disease"—may better guide veterinarians on evaluating and monitoring the disease's severity, which will aid important treatment decisions and help assess prognosis.
Third-year resident Dr. Maureen Oldach's research project—"Acute Pharmacodynamic Effects of Pimobendan in 22 Client-Owned Cats with Hypertrophic Cardiomyopathy"—revealed that the drug improved heart function and may improve prognosis in cats. Data assessment also revealed that pimobendan did not lead to malpositioning of the heart valve, which could lead to transient blood flow obstruction, a previously suspected potential side effect.
These awards showcase the school's worldwide leadership in academic research and clinical training. UC Davis is one of the only veterinary hospitals in the world that offers a research intensive cardiology residency training program. Residents complete a four-year program (rather than a traditional three-year residency) which includes an entire year devoted to clinical research.
Here are some resident grants funded in 2020-21:
$5,000:

Study to evaluate the 3-D geometry of the feline hip joint to aid in design of prosthetics

$5,000:

Predicting the presence and severity of arrhythmogenic right ventricular cardiomyopathy (ARVC) in dogs

$5000: Evaluating the use of doxorubicin to develop personalized dosing treatments for cancer

$5000:

Early detection and identification methods of novel viruses in pet fish

$3000: Examining the use of antibiotics by veterinary oncologists
Shelter Medicine Training Program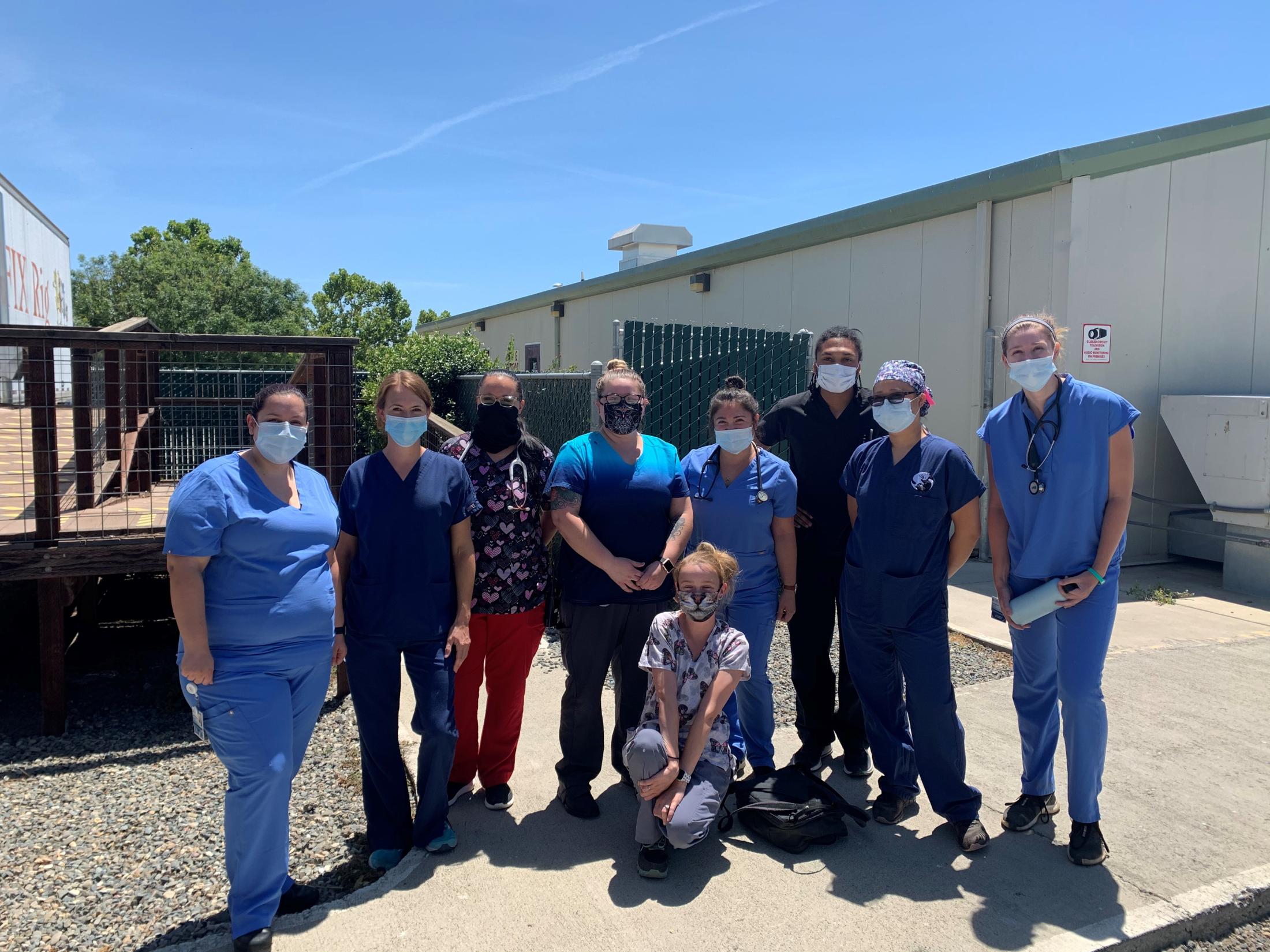 Shelter Medicine is a growing AVMA-recognized veterinary specialty. The UC Davis School of Veterinary Medicine developed one of the first Shelter Medicine training programs in the country through Foundation, Charitable Organization and private gift funding. The UCD Shelter Medicine Program has been at the forefront of the discipline and has participated in outreach, scholarship and educational missions.  
Our current Shelter Medicine training program is a clinical rotation that meets a core surgery requirement for graduation. The two-week training program based at Yolo County Animal Services consists of observation and/or participation in:
High quality/high volume spay/neuter surgeries and other soft tissue surgeries on shelter animals.

Set up and the operation of spay/neuter services.

Best practices in clinical shelter medicine including intake, length of stay, infectious disease control, sanitation, etc. at a well-managed public shelter maintaining a high live release rate.

Exposure to current trends in shelter medicine, including participation in National Shelter Medicine Rounds.
The opportunity to improve their skills in spay/neuter surgeries within the context of an operating shelter leaves a strong impression on these students, who come away as informed, skilled, and inspired advocates for excellence in shelter animal care and community programs to alleviate pet overpopulation.
Dr. Kraus, Spay/Neuter Clinical Instructor for the UCD Shelter Medicine Clinical Rotation, oversees the student-training program.  Dr. Kraus has worked as a shelter veterinarian for nine years since graduating from veterinary school. She previously worked at a high quality/high volume spay neuter clinic as well as several large municipal shelters across the country and brings a wide range of experience. Dr. Kraus works directly with the students to provide guidance and training using high volume/high quality approaches to spay/neuter surgeries in a shelter setting. She finds the improvement in the students' skills to be highly rewarding, knowing that future generations of veterinarians are receiving focused training on important techniques for shelter medicine and surgery.   
Since the shelter medicine training program started in July 2014, over 300 students have completed the 2-week rotation and have performed over 8,000 spay / neuter surgeries.  
---
Students Training in Advanced Research (STAR) Program Support
The STAR Program is an administrative program of the School of Veterinary Medicine at UC Davis to coordinate and offer funding opportunities on a competitive basis to veterinary students to experience veterinary and biomedical research during the summer months.
The objective of the STAR Program is to identify, nurture, and support veterinary students who will be guided through their work with faculty mentors to all aspects of veterinary and biomedical research, including:
Scientific dialogue and communication
Library and literature search and research
Laboratory conduct and professionalism
Research ethics and bioethics
Mentorship
Grantsmanship
Self-education and motivation
Critical review and assessment
By providing a supportive environment to explore and experience research in an established laboratory along with seminars and discussion groups on careers in science, students will gain an informed insight into a career in research, stimulating them to pursue a scholarly career in research subsequent to completing their veterinary degrees
CCAH has funded the following STAR program projects:
2020-2021:
Characterizing the phenotype and function of tumor-infiltrating NKp46+ NK and CD8+ T Cells in canine osteosarcoma

Microscopy with ultraviolet surface excitation as a novel diagnostic tool for the diagnosis of chronic enteropathy in cats
2019-2020:
The effects of weaning stress and maternal presence on kitten personality, health, and behavior
2018-2019:
Effects of maternal separation on distress vocalizations and activity in neonatal kittens during a brief nest separation

Enhancing genome editing by DNA insertion to reduce animal use in laboratory research
2017-2018:
Utilizing CRISPR methods to reduce feline immunodeficiency virus proviral loads and infectivity

The effects of temperature, relative humidity, and nocturnal and diurnal feedings on growth, feed intake, and health in orphaned neonatal kittens

The effects of temperature variation on physical contact between kittens and growth rate in orphaned neonatal kittens housed in the same incubator
2016-2017:
Novel tissue staining protocols and microscopy with UV surface excitation for rapid histological assessment of canine cutaneous mast cell tumors

Canine osteosarcoma as a preclinical model for investigation into therapeutic potential of bioengineered microRNA-34a prodrug in human osteosarcoma

Felis catus gammaherpesvirus (FcaGHV1) gene expression analysis in oronasal carcinoma.

Is feline gammaherpesvirus Felis catus gammaherpesvirus 1 (FcaGHV1) etiologically-linked to post-transplant lymphoma in domestic cats?
2015-2016:
Effect of HDAC inhibitors, Vorinostat and FK228, on canine glioblastoma multiforme (GBM), use in combination with conventional chemotherapy agents, and nanoformulation

BMI1 expression and inhibition in canine gliomas

Biomechanical evaluation of a locking vs. non-locking 2.0-mm miniplate system for caudal mandibular fracture in cats
---
Comparative Oncology Training
UC Davis is taking a major leap forward in training the next generation of scientists engaged in basic and translational cancer research for animals and humans, thanks to a prestigious National Institutes of Health (NIH) T32 grant.
Training the Next Generation of Comparative Oncologist
---
Graduate Student Support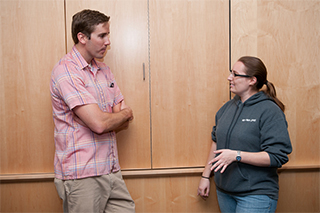 The CCAH provides support for graduate student research through its Maxine Adler Graduate Student Fellowship. The fellowship is possible thanks to the generous bequest from the estate of Maxine Adler, a longtime donor and friend of the school. Adler's cat DuBee was treated for cancer at the school's veterinary hospital. Since 2011, the Maxine Adler Graduate Student Fellowship has funded seven graduate student projects.
The first project involved studying the characterization of virus-specific immune responses in cats with feline infectious peritonitis virus (FIPV). An infected cat will have an intense inflammatory reaction around vessels in the tissues of the abdomen, kidney or brain, and although rare, the disease is usually fatal. For one study, a graduate student examined the characterization of dog epidermal neural crest stem cells and its potential as a therapy for spinal cord injury. Another project focused on lung cancer stem cells.
A recent study examined the influence of stress hormones on breast cancer stem cell survival and chemotherapy resistance. Dr. Colleen Sweeney, co-director of the Breast Cancer Research Program in the School of Medicine, mentored the graduate student who conducted this breast cancer research. "This fellowship provides support for talented young scientists," Sweeney says. "The training of graduate students in research techniques and best practices is an important step on their pathway to becoming an independent investigator. The training and research that grad students conduct will lay the foundation for their independence later in their careers."
One of two projects funded by the Adler fellowship in 2015-16 involves the investigation of a novel canine circovirus in dogs by graduate student Steve Kubiski. During his residency at the school, Kubiski became intrigued by an unusual case. A dog was brought to the veterinary hospital with severe vomiting and diarrhea with rectal bleeding. The dog's condition grew worse — despite therapy — and he had to be euthanized. A routine necropsy returned negative results for the typical infectious causes of intestinal disease, including parvovirus, coronavirus, Salmonella and distemper. That led Kubiski and his mentor, Dr. Patricia Pesavento, to investigate further and discover, in 2012, a novel canine circovirus. Now as a PhD student, Kubiski is continuing his research of canine circovirus. By supporting graduate student fellowships, the CCAH contributes to the education and advanced training experiences for these up and coming scientists and potential future faculty.