Educational Support
The CCAH is committed to advancing the school's educational missions for our residents, professional DVM students and graduate students. Future advancements in animal health depend upon a qualified cadre of new veterinarians, veterinary specialists and veterinary scientists. By partnering with our donors and affiliate faculty, we're able to support training and research opportunities for these up-and-coming professionals.
Resident Program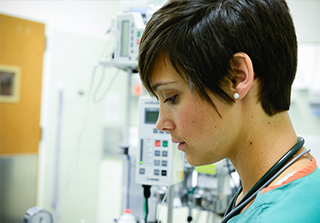 Residents — those who undergo advanced training in a particular area — are the next generation of veterinary specialists who will care for the health of our pets. To be equipped for this important responsibility, residents engage in research to learn how to better identify, diagnose, treat and prevent animal diseases and conditions.
The CCAH supports studies benefiting dogs, cats and small exotic pets through its competitive Residents Grants Program. The CCAH has awarded more than 70 grants for residents since 2010, which includes 12 grants in 2016-17 totaling almost $48,420. This is supported by gifts from donors, our companion animal memorial fund and a recently established resident grant endowment. Below are a few examples of the type of research we fund:
Nutrition Support Service resident Aarti Kathrani is using a grant to study feline hydrolyzed diets, which are foods with a protein source broken down into multiple, small pieces intended to sneak through the animal's system undetected. "This method has been used extensively in human infant formula to decrease food allergy reactions," Kathrani explains. In companion animals, hydrolyzed diets are used to diagnose or treat suspected cases of food allergy. Theoretically, these protein pieces are too small to be recognized by the immune system and will therefore produce no allergic reaction. But signs of skin and gastrointestinal disease sometimes persist despite using these diets. Kathrani is evaluating the three hydrolyzed dry foods currently available as commercial prescription diets to determine effects on cats' immune systems.
Resident Peter Strom is conducting a comparative investigation of cone-beam CT (CBCT) and dental radiographs in cats. He hypothesizes that the diagnostic yield of one-beam CT is superior to the conventional procedure of dental radiography to identify both anatomical structures and dental disease. CBCT is an imaging technique that provides a virtual threedimensional computerized reconstruction of the object. Special computer software allows researchers to manipulate the images for better visualization. CBCT has been used in human medicine for about a decade, and is ideally suited for teeth, jaws and temporomandibular joint diagnostic scanning. Regular dental radiographic images can be difficult to interpret due to overlapping teeth and problematic skull structures, especially in smaller animals like cats.
Resident Sara Gardhouse is studying the effectiveness and safety of the ceftiofur crystalline-free acid antibiotic in New Zealand white rabbit. Rabbits are one of the most common small mammals presented to veterinary clinics, shelters and wildlife centers. As such, they need to be evaluated in regards to different antibiotics. Due to the rabbit's unique and sensitive gastrointestinal system, many oral antibiotics commonly administered in other species cannot be used safely in this animal. Gardhouse and her colleagues are collecting blood samples from New Zealand white rabbits that have been administered this antibiotic, and measuring the antibiotic present in their blood to determine whether the doses are safe and the concentrations effective at killing bacteria. "This will result in improved health of sick rabbits, decreased stress and pain from repeated handling and injections, and improved the well-being of these animals," according to Gardhouse.
Here are some resident grants funded in 2015-16:
$2,430: identify occult lymph node metastases from dog carcinomas, which are cancers that start in cells that make up the skin or the tissue lining organs
$3,205: study commercial vegetarian diets for cats and dogs to determine whether DNA from mammals is present
$2,640: evaluate the outcomes in dogs with thymic epithelial neoplasia, which are rare malignancies arising from the thymic gland
$3,990: analyze the use of exosomes—secreted by most cell types—as cancer biomarkers in dog glioma, which is a type of brain cancer
$4,000: study the effects of applying proparacaine (a topical anesthetic drug) on corneal bacterial culture results in dogs
---
Graduate Student Support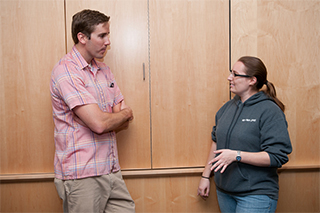 The CCAH provides support for graduate student research through its Maxine Adler Graduate Student Fellowship. The fellowship is possible thanks to the generous bequest from the estate of Maxine Adler, a longtime donor and friend of the school. Adler's cat DuBee was treated for cancer at the school's veterinary hospital. Since 2011, the Maxine Adler Graduate Student Fellowship has funded seven graduate student projects.
The first project involved studying the characterization of virus-specific immune responses in cats with feline infectious peritonitis virus (FIPV). An infected cat will have an intense inflammatory reaction around vessels in the tissues of the abdomen, kidney or brain, and although rare, the disease is usually fatal. For one study, a graduate student examined the characterization of dog epidermal neural crest stem cells and its potential as a therapy for spinal cord injury. Another project focused on lung cancer stem cells.
A recent study examined the influence of stress hormones on breast cancer stem cell survival and chemotherapy resistance. Dr. Colleen Sweeney, co-director of the Breast Cancer Research Program in the School of Medicine, mentored the graduate student who conducted this breast cancer research. "This fellowship provides support for talented young scientists," Sweeney says. "The training of graduate students in research techniques and best practices is an important step on their pathway to becoming an independent investigator. The training and research that grad students conduct will lay the foundation for their independence later in their careers."
One of two projects funded by the Adler fellowship in 2015-16 involves the investigation of a novel canine circovirus in dogs by graduate student Steve Kubiski. During his residency at the school, Kubiski became intrigued by an unusual case. A dog was brought to the veterinary hospital with severe vomiting and diarrhea with rectal bleeding. The dog's condition grew worse — despite therapy — and he had to be euthanized. A routine necropsy returned negative results for the typical infectious causes of intestinal disease, including parvovirus, coronavirus, Salmonella and distemper. That led Kubiski and his mentor, Dr. Patricia Pesavento, to investigate further and discover, in 2012, a novel canine circovirus. Now as a PhD student, Kubiski is continuing his research of canine circovirus. By supporting graduate student fellowships, the CCAH contributes to the education and advanced training experiences for these up and coming scientists and potential future faculty.
---
DVM Program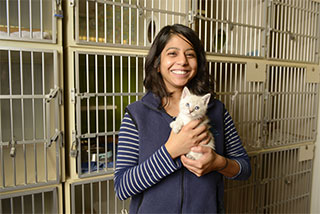 All faculty in the school participate in DVM teaching activities whether that be in the classroom, in the clinical instruction arena or through student research studies guided by faculty in their laboratory. The center's shelter medicine program is especially active in DVM teaching.
Through elective coursework, lectures in the core curriculum and clinical rotations, hundreds of students at the school have been introduced to the practice of shelter medicine. The training component of the school's Koret Shelter Medicine Program teaches students to understand the unique needs of animals in the shelter environment.  As a result, more than twice as many UC Davis graduates are working in shelters than graduates of the next leading institution, according to a recent survey. Our faculty and staff have also helped guide similar shelter medicine programs at other schools across the United States — making a national impact.
The Koret Shelter Medicine Program encompasses three main components: education through student training, residencies, externships, continuing education courses, webinars and an online virtual consultant; the study of stress and infectious diseases to improve prevention or management; and consultation and diagnostic services for shelters in the community to directly impact both individual animals and population health.
The clinical instructor of the UC Davis program teaches students about shelter medicine, and how to perform spay and neuter surgeries. Since 2014, some 57 students have performed more than 1,500 of these surgeries under the instructor's supervision. This veterinarian also oversees the elective clinical rotation in shelter medicine, where fourth-year veterinary students participate in surgical, medical and behavioral cases at Yolo County Animal Services and other Sacramento-area shelters. Students learn the practical skills that they can use once they graduate, and leave this rotation with a good understanding of how an animal shelter works, the challenges that shelters face and how to work within limited resources and still provide high quality care. They also gain valuable surgical and medical skills.
In addition to training students, future specialists interested in serving shelters across the nation are offered an intensive post-graduate residency. One of the program's current residents, Dr. Chumkee Aziz, obtained her DVM degree from Cummings School of Veterinary Medicine at Tufts University in 2012. She then completed an internship at the ASPCA Animal Hospital in New York City. In August 2013, she began her three-year residency at the Koret Shelter Medicine Program, where she is learning more about the role of community collaboration in eradicating pet homelessness and infectious disease prevention in shelters.
Aziz says her residency is unconventional in that it involves lots of travel to animal shelters and other veterinary schools throughout the United States and sometimes overseas. During these visits, she participates in training and consultations. She says it's exciting to be part of a field of veterinary medicine that is still developing, while advocating for those animals most in need. "For me, why I'm interested in shelter medicine is a simple answer," Aziz says. "It's the idea of being able to reach a huge population of at-risk animals. The premise of our work is that we help shelters help thousands of animals."