Resident Support
The CCAH is committed to advancing the school's educational missions for our residents, professional DVM students and graduate students. Future advancements in animal health depend upon a qualified cadre of new veterinarians, veterinary specialists and veterinary scientists. By partnering with our donors and affiliate faculty, we're able to support training and research opportunities for these up-and-coming professionals.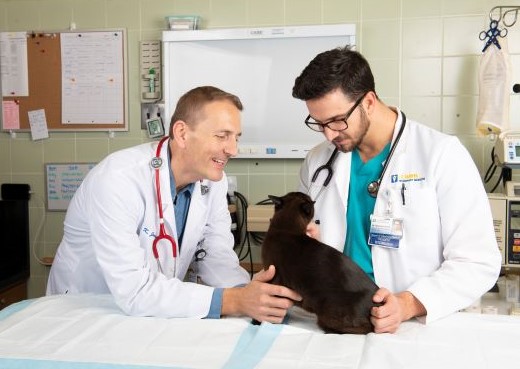 Residents — those who undergo advanced training in a particular area — are the next generation of veterinary specialists who will care for the health of our pets. To be equipped for this important responsibility, residents engage in research to learn how to better identify, diagnose, treat and prevent animal diseases and conditions.
The CCAH supports studies benefiting dogs, cats and small exotic pets through its competitive Residents Grants Program. The CCAH has supported more than 300 resident research projects over the past 25 years, which includes 11 grants in 2019-20 totaling over $52,000. This is supported by gifts from donors, our companion animal memorial fund and a recently established resident grant endowment.
Thanks to our donor funded grants, two cardiology residents recently won Resident Research Awards at the 2019 American College of Veterinary Internal Medicine (ACVIM) annual conference.  These projects were funded through the CCAH resident research grants program.   
Second-year resident Dr. Weihow Hsue's research project—"Reliability of Measuring of Left Atrial Size in Dogs with Subclinical Myxomatous Mitral Valve Disease"—may better guide veterinarians on evaluating and monitoring the disease's severity, which will aid important treatment decisions and help assess prognosis.
Third-year resident Dr. Maureen Oldach's research project—"Acute Pharmacodynamic Effects of Pimobendan in 22 Client-Owned Cats with Hypertrophic Cardiomyopathy"—revealed that the drug improved heart function and may improve prognosis in cats. Data assessment also revealed that pimobendan did not lead to malpositioning of the heart valve, which could lead to transient blood flow obstruction, a previously suspected potential side effect.
These awards showcase the school's worldwide leadership in academic research and clinical training. UC Davis is one of the only veterinary hospitals in the world that offers a research intensive cardiology residency training program. Residents complete a four-year program (rather than a traditional three-year residency) which includes an entire year devoted to clinical research.
Here are some resident grants funded in 2019-20:
$5,000:

Learn more about leiomyosarcomas (tumors )of the skin, subcutaneous tissues (just below the skin surface), blood vessels, muscle, and bone

$5,000:

Assessing the use of bone proteins in treating fractures

$4,392: Study of food allergies using 12-week elimination diet with limited ingredients

$4,984: Studying fluid retention to improve diagnosis and prognosis of illness in dogs and cats

$5,000: Exploring anti-inflammatory and pain treatments of Osterathritis in red-tailed hawks

$5,000: 

Eye drop treatment to reduce corneal haze and blindness
---
Graduate Student Support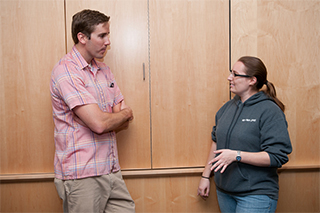 The CCAH provides support for graduate student research through its Maxine Adler Graduate Student Fellowship. The fellowship is possible thanks to the generous bequest from the estate of Maxine Adler, a longtime donor and friend of the school. Adler's cat DuBee was treated for cancer at the school's veterinary hospital. Since 2011, the Maxine Adler Graduate Student Fellowship has funded seven graduate student projects.
The first project involved studying the characterization of virus-specific immune responses in cats with feline infectious peritonitis virus (FIPV). An infected cat will have an intense inflammatory reaction around vessels in the tissues of the abdomen, kidney or brain, and although rare, the disease is usually fatal. For one study, a graduate student examined the characterization of dog epidermal neural crest stem cells and its potential as a therapy for spinal cord injury. Another project focused on lung cancer stem cells.
A recent study examined the influence of stress hormones on breast cancer stem cell survival and chemotherapy resistance. Dr. Colleen Sweeney, co-director of the Breast Cancer Research Program in the School of Medicine, mentored the graduate student who conducted this breast cancer research. "This fellowship provides support for talented young scientists," Sweeney says. "The training of graduate students in research techniques and best practices is an important step on their pathway to becoming an independent investigator. The training and research that grad students conduct will lay the foundation for their independence later in their careers."
One of two projects funded by the Adler fellowship in 2015-16 involves the investigation of a novel canine circovirus in dogs by graduate student Steve Kubiski. During his residency at the school, Kubiski became intrigued by an unusual case. A dog was brought to the veterinary hospital with severe vomiting and diarrhea with rectal bleeding. The dog's condition grew worse — despite therapy — and he had to be euthanized. A routine necropsy returned negative results for the typical infectious causes of intestinal disease, including parvovirus, coronavirus, Salmonella and distemper. That led Kubiski and his mentor, Dr. Patricia Pesavento, to investigate further and discover, in 2012, a novel canine circovirus. Now as a PhD student, Kubiski is continuing his research of canine circovirus. By supporting graduate student fellowships, the CCAH contributes to the education and advanced training experiences for these up and coming scientists and potential future faculty.